The Proposal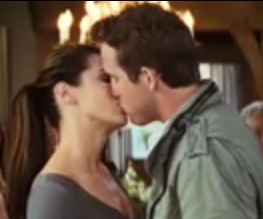 Does anyone actually see Sandra Bullock movies anymore? There's no denying that at one time, she was second only to Meg Ryan in her domination of the cheesy romance. That one where she saves the guy from being hit by the train and his family mistake her for his fiancée still gets shoved on TV about 10 times a year by particularly unimaginative program schedulers. And of course, there was her turn as the damsel in distress to Keanu Reeves' tough-guy cop in Speed. But let's face it, just as Ryan's latest frightening trout pout has taken her well beyond the point of cute, loveable rom-com heroine, the reign of the Bullock is well and truly over.
It's a point even the lady herself looks quite aware of in this latest ridiculous outing. This time, the convenient plotline sees our heroine, a ruthless editor at a New York publishing company, force her put-upon assistant (Ryan Reynolds) to marry her when she faces deportation to Canada. To prove the authenticity of their 'love affair' to the authorities, they travel to his native Alaska to meet his (surprise!) zany family. Of course, as her steely facade begins to melt, exposing her (surprise!) charmingly vulnerable side to Reynolds' character and forcing her to realise the error of her ways in treating this saintly man so ill, their fake courtship suddenly starts to become not so fake. Yes, it's Meet the Parents meets Picture Perfect meets dear God kill us now.
Even if you can manage to put aside the film's formulaic stupidity, there's also the complete lack of chemistry between Bullock and Reynolds to deal with. They've certainly mastered the bantering and hatred part at the beginning of the movie, but when it comes to the later falling in love scenes, we've had more sexual tension with the guy who makes our Starbucks in the morning. Ultimately, we've seen stories like this a hundred times before, and with the clumsy casting and halfhearted efforts by Bullock especially, it's made much less than memorable. Time to retire on your rom-com millions, Sandra.
Special Features
2 Disc Deluxe Edition includes:
Alternate Ending
Deleted Scenes
Audio Commentary
Featurette
Set Antics: Outtakes and Other Absurdities
Subtitles: French, Spanish
Disc Two: Digital Copy of Feature Film
About The Author