The September Issue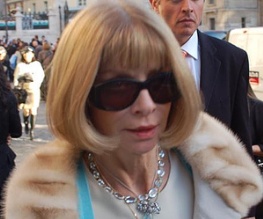 There are a few sights in life that are guaranteed to strike fear into the heart of every human being, regardless of age, sex or hardarse-ness. A giant, hairy, poisonous-looking spider perched on your pillow when you wake in the morning is one. A bank balance that is unexplainably in the minus digits, particularly the triple or quadruple ones, is another. And the third terrifying, involuntary-urination-inducing sight – Anna Wintour.
Whether you're a follower of high fashion or not, the sight of that woman's withered, skeletal frame, her perfectly angled bob and the fact she insists on wearing giant black fly-style sunglasses at all times are guaranteed to terrify young and old alike. Which is why we were interested to see whether a documentary chronicling six months in the life of US Vogue's infamous ball-busting ice queen editor could present a human side to the frightening creature.
Miraculously, it does manage to make Wintour appear ever so slightly less creepy. She's still quite obviously the boss from hell (the similarities between the real Vogue office and 2006's The Devil Wears Prada, based on Lauren Weisberger's account of working there, are so exact that you sometimes forget whether you're watching the real Wintour or Meryl Streep's parody of her). But the inclusion of rare one-on-one interview footage with the woman herself, and some almost tender domestic scenes of Wintour at home with her daughter, help us to realise there is a real person behind her cold, domineering work persona.
Apart from humanising the demon editor, the film also gives us a bird's eye view into the magazine world itself. From early brainstorming sessions through to the brilliantly artistic photo shoots of creative director Grace Coddington, we witness the world's most powerful fashion publication gradually coming together. It's an intriguing warts and all look into a usually inaccessible world, minus the usual crazy outfit-wearing, designer-plugging hooplah that comes with fashion-focused films. Turns out those uber-trendy Vogue sophisticates have their fair share of work stuff-ups too.
About The Author