Justified Season 1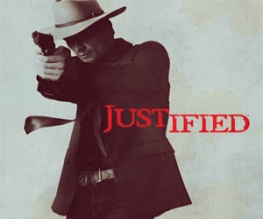 Justified is a typically polished TV series from the US, taking as its inspiration the work of novelist Elmore Leonard. US Marshall Raylan Givens has been relocated from his assignment in Miami following his shooting of a drug dealer. Now based back in the rural Kentucky where he grew up, Raylan sets about bringing justice and protection to the people of the poor mining area.
Every so often an actor and a role just seem to fit together naturally. Timothy Olyphant's portrayal of Givens is a perfect example of this, from the cool control with which he faces the frequent standoffs, to the nonchalant southern drawl with which he speaks. The direct result of this is a conflicted but likeable protagonist, with a set of wild-west values the audience have no trouble buying into.
The whole series is dripping with atmosphere, the dusty setting of Kentucky incorporating classical western iconography such as Givens' Stetson to create a feeling which manages to appear at once peaceful and threatening. The dialogue put in place by the scriptwriters provides the actors with some fantastic back-and-forths, and breaks the intensity with some superb moments of droll humour. Another element which adds to the atmosphere is the outstanding soundtrack, the main theme in particular emphasising the shows tone by incorporating both rap and bluegrass music to powerful effect. Each episode is pervaded by lazy guitar strings, which really do complement the main character, as we get the feeling that what we are seeing is a wild west hero righting the wrongs of the modern day.
The stories themselves are well-paced, packing in a huge amount into their 40-minute runtime. Tension is built to an almost unbearable degree on occasions, and the bursts of action are exciting and spectacular, with gunfights and explosions never feeling shoehorned-in, and always moving the plot forward.
Although the show is centred very clearly around its protagonist, the supporting cast do a superb job. Particularly noteworthy are Joelle Carter as a complex and dangerous love interest, and Nick Searcy as Givens' boss. Olyphant and Carter share a real chemistry on-screen, which makes some of their scenes together as compelling as the action sequences. Welcome cameos that should be mentioned are Peter Greene (The Mask) as the drug dealer gunned down by Givens, and the always fun Doug E Doug as a Jamaican minister.
Justified has been greenlit for a second series, which is fantastic news and will hopefully herald a long run for this slick, entertaining and original show.
About The Author