Puss in Boots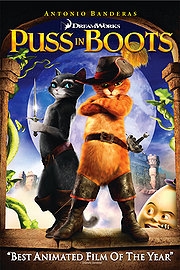 In the badlands of Fairytale Mexico (or whatever), a solitary outlaw cheers the people with his derring-do whilst outwitting the clumsy servants of the state. One name strikes fear into the hearts of wrongdoers and thrills all those with a lust for adventure! Well, several names – he's also known as 'El Diablo Gato', 'The Ginger Lover' and 'Frisky Two Times', but you may know him as Puss. In Boots. But the behatted bandito didn't always race across the plain to an accompaniment of frenzied guitars and whips cracking like arthritic knees, surely? Ooh, hang on – there's a package here from the Department of Backstory…
Growing up as an orphan kitty in San Ricardo, Puss (Banderas) didn't even have a name until he made friends with fellow foundling (and egg) Humpty Alexander Dumpty (Galifianakis). Spurned by their peers, they formed a secret society dedicated to finding magic beans, convinced that climbing the fabled beanstalk to find the goose which lays golden eggs would solve all their problems. But Humpty's taste for mischief saw Puss exiled from his hometown, disgraced and branded a thief, and their partnership ended.
Seven years later, Puss is eking out a living as a sneak thief and soldier of fortune – but when he hears that the notorious villains Jack and Jill have acquired some magic beans, he can't resist trying to steal them. One chance encounter with cat burglar (ha!) extraordinaire Kitty Softpaws (Hayek) later, Puss is once again tangled up in a quest-coloured ball of yarn with no loose end in sight. Will he ever make it up the beanstalk and back down again? Obviously he will, this is a Dreamworks film.
As the incomparably ghastly remake of The Three Musketeers recently demonstrated, making an enjoyable swashbuckling film really isn't as easy as it looks. Happily, Puss in Boots nails the classic formula with aplomb (along with extensive use of THAT Dreamworks face – if you don't know what I mean, read this). The script is tight, pacy and strewn with jokes designed to keep the adult audience happy – kudos on the lone drugs reference, guys – whilst the haphazard blending of fairytales and nursery rhyme characters will give even the youngest kids something they recognise.
After two films as Zorro and a further three as Puss himself (plus more than a decade of being one of Hollywood's go-to Latin lovers), Antonio Banderas knows his character inside out. It certainly shows – he growls, purrs and occasionally yowls with absolute style and a welcome dose of humour, easily making the transition from sidekick to leading man. Zach Galifianakis is quite startlingly funny as Humpty Dumpty – it might just be the pleasure of not looking at that beard, but the cunning egg is the sort of animated villain that the last couple of Shrek films have been crying out for. Salma Hayek has still got the sexiest voice in the world, obviously, and there are a few lovely cameos including turns from Billy Bob Thornton & Amy Sedaris (Jack & Jill) and !!!!!!!! Guillermo del Toro !!!!!!!! (El Comandante).
Let's be clear about this – there is nothing, absolutely nothing about Puss in Boots that suggests the presence of even a shred of original thought anywhere in its production. But sometimes that's fine. It lacks the groundbreaking oomph and profundity of most of Pixar's output, but you'd be hard put to find a frothier and more enjoyable kids' film this Christmas (apart from Arthur Christmas, obviously). Saddle up.
About The Author