Chalet Girl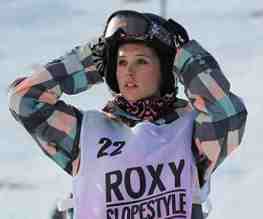 Robbed of both her mother and skateboarding prowess in a tragic car accident, Kim Matthews (Felicity Jones) is watching life pass her by from behind the counter of some nameless burger bar, winning bread – and beans – for her apparently incapable father (Bill Bailey). Offered the chance to work as a chalet girl in the Austrian Alps for twice the money – a role that basically requires that she house-sit and occasionally wait on the resident billionaires – Kim is thrown into a world of pretence, caviare and leisurely helicopter rides as she endeavours to complete the four month contract. With her eye set firmly on engaged client Jonny (Ed Westwick), and her ex-skateboarding skills putting her in good stead for winning the local snowboarding championship, the stage is set for the usual succession of gags and pratfalls in anticipation of our requisite happy ever after.
[FLOWPLAYER=http://uk.image-1.filmtrailer.com/64483.jpg|http://uk.clip-1.filmtrailer.com/6340_20734_a_4.flv,275,180]
Chalet Girl is hardly boundary pushing, shipping as it does a youthful Bridget Jones off to a ski resort to see what shenanigans might ensue as yet another working girl is faced with prejudice, betrayal and enough montages to warm even the most reluctant of fuzzies. Having plucked the poshest two girls from St. Trinians and Wild Child's Abbey Mount (and scoured Lipstick Jungle for a suitably suave Gossip Girl veteran) director Phil Traill is hardly casting against type. The film's lack of originality is made substantially worse by its dismal production values, a meekness hinted at by a dreadfully kitsch poster and trailer campaign. While the supporting cast is more stock than character, however, Chalet Girl is saved from complete tedium; that feeling that you're frittering your life away watching a lesser variant of a story you've seen a thousand times before heroically tempered by a winning script and endlessly compelling lead performance.
Clearly having learnt his lesson after Razzie-winning laughing-stock All About Steve was confined to the stocks, Traill has quit trying to craft a character exclusively from tiresome quirks and has instead resolved to charm his audience into submission, a strategy that proves far more effective. Like Renee Zellwegger before her, Felicity Jones has created a relatable heroine who is neither overly earnest, embarrassingly British or Sandra Bullock. Taking the clever script and running with it, Jones might be hindered by the snowy setting – the result of the sheer amount of screentime surrendered to Jones' undeniably talented stunt double – but she manages to craft a genuinely engaging screen presence in between the inevitable pratfalls and ski-jumps.
While you will have likely guessed the ending before Kim even reaches her alpine destination, the same could be said for ninety nine per cent of the rom-com genre. There is something to be said for not reinventing the wheel with as much zeal as Chalet Girl, the predictability proving part of the charm. With a restrained Bill Nighy harking back to when the actor could play a believable human being, and Bill Bailey once again handling dramatics with a surprising aplomb, Chalet Girl's apparent simplicity is testament to how heightened onscreen romances have become. Although the lukewarm reception might be the result of a general shift in expectations towards Valentine's Day ensemble comedies and Judd Apatow artifice, it might of course simply be because Chalet Girl isn't funny enough to fulfil the com end of the deal.
Neither laugh-out-loud funny or face-eatingly cringeworthy, then, Chalet Girl exists as a happy medium in this well-worn genre. By no means as surprisingly memorable as No Strings Attached, but not as offensively insipid as Just Go With It either, Chalet Girl is likeable, sweet and witty enough to charm your pants off whether you were looking for a bit of fun or not. Needless to say: I loved it.
About The Author