Footloose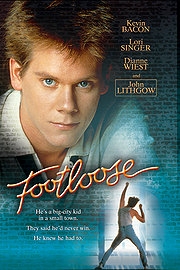 Arriving in small-town Bomount following the death of his mother, Ren McCormack (Kenny Wormald) moves in with his aunt, uncle and their two children. Quickly finding himself on the wrong side of the law, Ren is inducted into the town's idiosyncratic legislation by fellow student Willard (Miles Teller), and informed that dancing has been banned by the town's council following the death of the reverend's (Dennis Quaid) only son three years previously. Catching the eye of Reverend Shaw Moore's rebellious daughter, Ariel (Julianne Hough), Ren is soon fighting for more than just his right to disturb the peace.
What constitutes a good remake? While I appreciate that your immediate reaction might be to construct a bonfire out of Platinum Dunes releases in protest of the assumption that such a thing might actually exist, there are undoubtedly a handful of films that have genuinely improved on the original or at least not committed sacrilege by blaspheming on hallowed ground; Dawn of the Dead (2004) jumps to mind, as does The Thing (1982) and last year's remake of The Crazies (2010). It is a list which has just grown by one, with director Craig Brewer arriving at the perfect balance between devotion and deviation with his retelling of 1984's Footloose. What makes a good remake? Exactly the same thing that makes a good original: talent.
Craig Brewer didn't even want to remake Footloose. Turning down Paramount's offer to direct not once but twice, Brewer couldn't see any reason to revisit a story he saw as having been done justice the first time around. Following the departure of High School Musical alumni Kenny Ortega and Zac Efron, however, the director later signed onto the project in the belief that he genuinely had something new to say about Ren McCormack plight to put a boogie back into Bomount's puritanical tissue. With Bacon's blessing and the writer of the original film, Dean Pitchford (only in the movies), contributing to the screenplay, Brewer set about updating the story for the 21st century.
The result is a film which from the very beginning plays its hand for all to see. As a faceless DJ informs audiences that they know exactly what's coming, and as the title track kicks in over the opening credits to a montage of loose feet, the director's approach is immediately clear, an eternal dusk ensuring that the sun is forever shining brightly and casting a warm, fittingly nostalgic glow over proceedings. While I have no problem whatsoever with Zac Efron (Chase Crawford, however…), the star's absence from the film is perhaps one of its biggest strengths. Having already seen Efron's ANGRY DANCE in High School Musical 3: Senior Year, it would have brought a vehicular edge to proceedings as this cultish classic was sugar-coated for an ignorant audience not unlike the film's own puritanical congregation. Cast almost exclusively with fresh faces and lesser known actors, Footloose has a delightfully innocuous touch, one that is uncannily 80s despite the obvious presence of iPods and Blackberrys.
While able support is provided by an unexpectedly heartfelt Dennis Quaid and Andie MacDowell as Mr and Mrs Town Preacher, Footloose's success is undeniably down to its two leads, played with winning aplomb by Justin Timberlake backing dancer Kenny Wormald and two-time Dancing With The Stars winner Julianne Hough. Channelling James Dean as much as he does Kevin Bacon, Wormald is entirely compelling as the city kid who just wants to dance. Though he may struggle to tie his mother's leukaemia into his crusade against curfew, the dancer-turned-actor does a very admirable job milking every last trace of drama from a story that could be seen as verging dangerously on rigmorol: so they won't let you jig…AND?! Hough, meanwhile, brings true likeability to the role of rebellious preacher's daughter, and her presence is felt just as strongly off the dancefloor as it is when dancing circles around everyone else. The character of Ariel could easily try audience patience with her slightly less-than-sympathetic spoilt issues and behaviour, but Hough nevertheless manages to engage entirely, bringing a much-needed vulnerability and desperation to the film's female lead.
Paying due respect to the original while upping the ante and updating the story, Craig Brewer's Footloose is that rare beast: a re-visitation which not only justifies its existence, but earns its place alongside the original. Old-fashioned in the very best sense of the word – when did it ever become so unusual for a Hollywood film to comment on morality so unabashedly? – Footloose Mark II is every bit as entertaining, uplifting and relentlessly toe-tapping as its predecessor.
About The Author