The Princess of Montpensier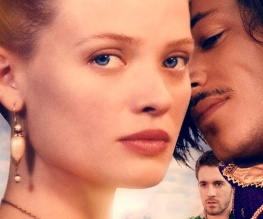 Whether or not you admit it, you've probably got a soft spot for the odd historical romance; swords, horses, heaving bosoms and someone called The Count? Lovely jubbly. Dross like The Other Boleyn Girl, The Duchess and anything else featuring a blonde in a corset she doesn't really need are this generation's equivalent of a cheeky Mills & Boon – very nearly pornographic, but with enough of a sheen of propriety to stop us feeling mucky. Would that The Princess of Montpensier had had such simple ambitions.
The year is 1570-something, and France is in disarray as Catholic royalists wage bitter civil war against reformist Huguenots. François, Count de Chabannes (Wilson), a tutor and Renaissance Man who left his Catholic employer to join the Protestant cause, renounces the bloody and unwinnable war in disgust; exiled by both sides, he secretly returns to the service of his former pupil Philippe, Prince de Montpensier (Leprince-Ringuet). The Prince himself has troubles of his own; determined to secure the family's future, his father has pressured a rich noble into surrendering his daughter Marie de Mézières (Thierry) to the wifeless Philippe. Marie is forced to abandon her fiancé Henri, the dashing Duke de Guise (Ulliel), and travels to one of Philippe's castles with a heavy heart as her new husband returns to the battlefield.
The obedient and mild-mannered François is assigned to tutor Marie whilst Philippe is away, but as he grows closer to her François realises his new charge is anything but the bland mannequin her husband believes her to be. As he gradually loses his heart to the Princess, she also catches the eye of the powerful and ruthless Duke d'Anjou, the King's brother – and Henri, now a distinguished soldier who has earnt the nickname 'Le Balafré' (The Scarred), has showed no signs of abandoning his former affections. The Prince is faced by rivals on all sides, whilst both Dukes await a chance to sweep him from their respective paths and the Count must be content to adore his student from a distance. Has anyone noticed that she hasn't actually been consulted about any of this? No, probably not.
If you got a little bit lost in the flurry of titles which preceded that rather nifty photo of Gaspard Ulliel waving a main gauche about, imagine what it's like trying to keep up with it for TWO AND A HALF HOURS. Watching The Princess of Montpensier is like being assaulted, slowly and without any real verve, by a man in his early sixties who insists on wearing a horse costume and reciting tracts from a pre-revolutionary Paris edition of Who's Who; you find yourself wishing that if it can't be over, it could at least get really obscene and disturbing just to give you something to focus on.
This, in fact, is perhaps the most irritating and persistent of the film's many problems. Because it can't quite decide if it wants to be a dignified period piece or a gleefully smutty dicks'n'doublets romp, it hedges its bets by tempering hours of restrained glances and meaningful silences with occasional and largely gratuitous flashes of nudity; I've seen more gravitas on Newsnight and much, much more sex and swordplay in the last episode of Camelot. The plot, which only really gets off the ground for about twenty minutes of the last hour, is tedious sub-Twilight fare intercut with interminable shots of people RIDING HORSES ALL THE TIME and occasionally stabbing each other (in some of the worst-choreographed fight scenes I can remember), and the occasional well-shot scene or touching line of dialogue is simply lost in the flood of mediocrity.
In the light of this year's Strauss-Kahn revelations, this film could have been a fantastic illustration of the centuries-old tradition of male sexual entitlement which appears to persist particularly strongly in la belle France. In fact, all it manages to do is waste the time of the competent cast (fresh from Of Gods and Men, Lambert Wilson in particular continues a run of superb performances) and further entrench the populist opinion that period dramas are dry, staid and unwatchable. The Princess of Montpensier is all three.
About The Author