The Vow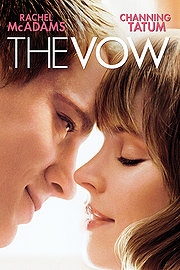 Despite our pretences to approaching films objectively, us film writers are prone to slipping into a state of sneering cynicism when we hear certain facts surrounding a film. In this case, the fact was that Channing Tatum is playing a character that's expected to show some kind of emotions (namely sadness and happiness) on his gormless face. That, and the extremely irritating adverts for The Vow that have been plaguing Spotify for the last few weeks, made me ready to tear this film apart with relish.
I was to be disappointed however, because the film didn't give me the grounds I needed to destroy it. Yes, Tatum has as much personality as a block of clay with small eyes and a mouth carved into it, and yes it's melodramatic, but the interesting premise throws up some worthwhile themes, good comical moments, and even a few twists along the way. The Vow is about a happily married young couple, Leo (Tatum) and Paige (Rachel McAdams), whose idyllic life is shattered when they're in a car accident. Paige suffers from amnesia, eradicating the last few years of her life. With Leo still in love with her, and Paige having no clue as to who he is, he tries to make her remember their relationship and win back her heart.
The film wastes no time in setting the scene. After some early moments of them giggling stupidly together and laughing at each other's farts, the accident happens and the drama begins. Complicating Leo's determination to get Paige back is her traditional parents' desire to rekindle their relationship with their daughter and get her back to Law School. Top this off with the fact that the last man Paige remembers loving is her rich-boy ex-fiancée Jeremy (Scott Speedman), and Leo has a bit of an uphill task.
The amnesia scenario makes for some golden opportunities for comedy, though these aren't fully exploited. Leo's understandable instincts to be naked around Paige, or to kiss and tickle her when times are tough, are amusingly thrown back in his face. McAdams, for her part, does a good job of being constantly off-set by reminders that she's now a vegetarian artist, rather than the carnivorous law student she once was. The missing link however is Tatum, who has all the charisma and versatility of an oversized off-cut of beef. His voice (which, unfortunately, also narrates the film) sounds like an adolescent Sylvester Stallone, and his acting is stiff in both his face and his cumbersomely muscular body. Tatum simply lacks the ability to make any scene – whether funny or sad – have its desired impact.
Thankfully for Tatum, McAdams is there to carry him on her figurative shoulders throughout the film. With a couple of years blacked out, the change between her pre- and post-accident character was always going to be subtle, and she picks up on these nuances well. She weeps when she's meant to weep, is lovey-dovey when she's supposed to be, and strips down to her bra and panties at one point, which is nice.
The Vow is a well-paced film that avoids slipping into some of the clichés you might expect it to. It treats the affliction of amnesia with respect, emphasising throughout that there is no fast-track to solving the problem. Rather than take the predictable path of 'love cures everything,' The Vow approaches the issue with surprising realism. As such, the plot is believable rather than lovey-drivelly nonsense, making the film partly  justify its vague 'Based on True Events' claim.
Fighting against Leo's desire to help Paige through are her family and ex, who attempt to exploit her memory loss to cover up their own past mistakes. In fact, the film appears to have a vaguely political motive by siding selfishness and deceit with Paige's Republican background, while her positive 'current' life sees her pursuing a career in art surrounded by trendy liberal types. Just in case that was too subtle, Leo even reminds Paige that she voted for Obama in the last election, nudging YOU, dear voters, to do the same.
Pseudo-propaganda aside, The Vow is a perfectly watchable love story which treats the subject of amnesia with surprising sensitivity. It moves along at a brisk pace to a conclusion that manages to be touching without falling into a mushy pool of sentimentality. For a love story however, it lacks the key ingredient of on-screen chemistry between the leading pair, but then how is poor Rachel supposed to connect with a clay-faced clump like Tatum?
About The Author