Miss Bala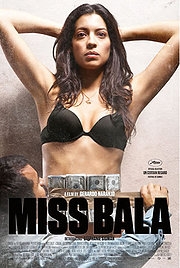 Christ, but things are pretty grim in Mexico. The drug war which has raged since 2006 has claimed an estimated 50,000 lives, many of them civilian, and the cartels who struggle for power carry out ever more brutal reprisals against rival gangs and interfering police officers. The vibe in Tijuana, to put things mildly, is not mellow. Still, maybe the best way to address the ongoing conflict would be to blend the story of a brutal gang with that of an innocent Mexican girl who wants to be a beauty queen? It might work…
Life is hard for Laura (Sigman), a pretty teenager who divides her time between school, looking after her little brother and helping with her dad's business – her only way out of poverty is via the crown of Miss Baja California, the winner of an annual beauty pageant. Despite being late and improperly dressed Laura is accepted for the pageant along with her friend Suzu (Lakshmi Picazo), and they head to the Millennium nightclub to celebrate with some suspicious types who Suzu thinks could help their chances. But disaster strikes at the club when heavily armed gang members break in and begin shooting; Laura manages to escape after a brief encounter with one of the criminals, but Suzu is nowhere to be found.
Laura is summarily kicked out of the pageant for not showing up the following day, and when she reports Suzu as missing a corrupt policeman identifies her to the powerful Estrella gang which planned the hit. Laura is abducted by its leader Lino (Hernandez), the gun-toting thug she met in the nightclub; but instead of killing Laura he takes a fancy to her, nicknaming her 'La Canalita' and promising to help her get back into the pageant. There's just a couple of things she needs to do for him first. As she tries to balance the complications of her new double life as trainee beauty queen and unwilling courier for the cartel, Laura knows she's walking a thinner and more dangerous path than any catwalk she'll encounter in the swimsuit round…
Gerardo Naranjo has succeeded in making a genuinely original film. The Mexican Drug War is still very poorly covered in the English-speaking world, and Miss Bala cleverly draws the audience into an unfamiliar world by making its protagonist a similarly ignorant newbie. Stephanie Sigman gives a fine performance as Laura, a character who is variously stripped, abused in various ways, put under spectacular emotional stress and almost visibly shaking with fear for the entire film; for a young Mexican actress with (presumably) first-hand experience of the current conflict, it must have been a traumatic role. Noe Hernandez' Lino, whose ruthless attitude is patched with compassion both for his comrades and for Laura, is also memorable, although the film's extraordinary pace and frequent changes of scene make it hard to connect with many other characters.
In fact, if I have a criticism of Miss Bala then this is it. A film about a girl unexpectedly forced to cooperate with a Mexican cartel would have been perfectly interesting on its own, as would one about a wannabe beauty queen juxtaposed against the unforgiving background of Tijuana. You might even have been able to fit both into one film, if the film was four hours long. Miss Bala feels throughout as if it's being played slightly too fast – we meet Suzu for about ten minutes before the nightclub incident, so we're incapable of truly worrying about her welfare, and the girls' involvement with the beauty pageant is so brief and perfunctory that we don't really care about that either. Laura's cooperation with the gang is rushed through at such a pace that it's almost a surprise when she starts smuggling cash into the States, and Lino's morally ambivalent character is never developed.
I'm not sure I would have coped with four hours of DEA agents being mutilated and models simpering, mind you. Miss Bala is thrilling and well-made, with a few great performances, but it feels like the abridged version of the film it could have been.
About The Author