Gael Garcia Bernal is doing a thing in the jungle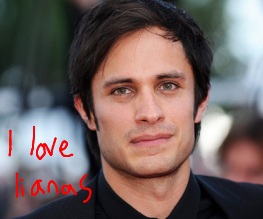 Gael Garcia Bernal and Alice Braga have been cast in intriguing jungle-based film called El Ardor, which has been described as a "modern-day Western". Set in the Amazon jungle, Bernal will play a mysterious man who emerges from the rainforest to save the kidnapped daughter of a farmer after criminals murder her father and take over his land. Braga will play the aforementioned damsel-in-distress.
El Ardor will be the first film to produced by Participant PanAmerica, who are hoping to carry on the current wave of filmmaking talent in Central and South America. Bernal has also been credited as producer (which likely means he is bankrolling this mother). Participant CEO Jim Berk said of the project: "After our terrific experience on No, we're excited to be reuniting with Gael for out first Participant PanAmerica film and to be expanding our footprint into this important segment of the global marketplace". Excuse us while we nod sagely in agreement.
A Western with an Argentinean jungle backdrop sounds fabulous to us, and there no one on earth who doesn't love Bernal. He is an extremely underrated actor who proved with films such as the Oscar-nominated No and Casa De Mi Padre that he can handle the dramatic and the comedic with skill. He's also very easy on the eye – not that that's important here. Ahem.
About The Author