Toy Story 3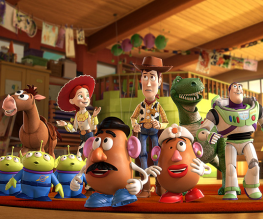 As a lover of animated films, I have learnt to be sceptical of the tricky creature that is the sequel. I have never fully recovered from the horror of Pocahontas 2, where Pocahontas leaves John Smith to run off with another man, also called John! What about happy ever after? What about true and lasting love? Tart. Don't talk to me about it.
However, Pixar has won back my confidence with its latest masterpiece, Toy story 3. My favourites have always been the supporting characters and you will be happy to know that they are all there, present and correct – Mr and Mrs Potato head, Rex the dinosaur, Slinky Dog, Hamm the piggy bank, the little aliens (THE CLAAAW) – I could go on. Each one is imaginatively utilized and their individual qualities thought through. The story is a familiar one of a child moving towards adulthood, something viewers of all ages can connect with. As the words of You've got a friend in me played out into the auditorium, I felt a nostalgic twang of excitement.
[FLOWPLAYER=http://uk.image-1.filmtrailer.com/18105.jpg|http://uk.clip-1.filmtrailer.com/2415_6038_a_3.flv,275,180]
What's the Buzz?
We join the toys at a turbulent moment. Andy, now 17, is going away to college and cleans out his room, deciding what he wants to do with his childhood possessions. Woody (Tom Hanks) is to be taken to college and Buzz (Tim Allen) and co. are destined to go up into the attic. However, through some creative confusion, the toys end up being driven towards Sunny-side day care, where they are donated to a new group of children. At first, the day centre seems like paradise. The characters receive a warm welcome from the resident toys and are delighted by the prospect of being played with again after all these years. The rest of the clan make themselves at home but Woody decides that he must make his way back to Andy. But all is not what it seems at Sunny-side. The toys are tricked into the 'Caterpillar Room', where a tirade of troublesome toddlers set upon their playful destruction. When the toys attempt to follow Woody home, they are held prisoner by the strawberry-scented 'Lotso Huggy Bear', Ken and a giant baby doll – frankly the most terrifying and sinister thing I have ever seen in my life! When Woody learns the truth of his friends' fate, he must decide whether to go to their rescue or make it back to Andy before he leaves for college.
A triumph in its own right
The real success of Toy Story 3 is that the new characters are just as engaging as our old friends. The hilarious love affair between Barbie and an extremely vain Ken is a real highlight. The whole story is told with such colour and creativity. Moments such as the toys holding a poker night in the vending machine, Mrs Potato Head keeping watch on Andy through her eye which has been left behind in his bedroom and a 'reset' Spanish Casanova Buzz flirting with Jessie are all fantastically bonkers and maintain an electric energy running through the narrative. The detail of the animation was evidence of Pixar's care with this film. It had not been churned out with a hope to merely cash in on the success of its predecessors.
Since when did a headache cost £2.50?
Making Toy Story 3 one of the many 3D films out there wasn't much of an enhancement. I couldn't help but resent being charged for the irritation of some plastic glasses, which cast a dark gauze over the screen and added very little to the overall impact. A film such as this does not need to pull out any fancy moves in the name of keeping up with the times to attract the recognition it deserves. Now where are my pipe and slippers?
Closing the toy-box
All in all, Toy Story 3 is an absolute winner that had everyone chuckling. I got home from the cinema, looked at the old tattered toy dog sat on my bed and promised never to throw him out. The tale moves forward while staying loyal to the original and no lose ends are left untied. The film reignites the joy of play and the idea that we are never too old to use our imaginations. Now, I must go before I start to gush. But go and see it and I promise you will gush.
Oh, one last thing, remember to stay in your seats for the additional clips throughout the credits – they're a real treat!
About The Author