Badass Santa 2.0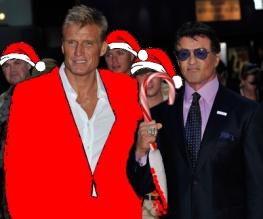 It's the year 2030, and the world is entrenched in global chaos: World War III is in full swing, the President of the United States of America (Freeman) is a lame duck, and everything that An Inconvenient Truth warned us of has happened. Everybody is weary and helpless in their plight, and when December rolls around, there is no holiday cheer. Then one night, twelve days before Christmas in an alley in Los Angeles, a convicted rapist is found dead, wrapped in a ribbon with a drummer's stick driven through his heart. The next night, in an apartment in Manhattan, a suspected member of the mafia dies from choking on an instrumental pipe. Similar cases start popping up all over the world, from Africa to China, which causes world leaders to think that a Christmas vigilante has taken it upon himself to rid the world of corruption and restore it to what it once was. Pretty soon, global citizens are hailing this vigilante as Badass Santa 2.0 (Lundgren), and celebrations in his honor are held worldwide. But the revelry stops short when a mysterious and deadly stranger known only as The Scrooge (Stallone) rises up, determined to destroy Badass Santa 2.0 and make the 25th a day of despair.
At first glance, this movie appears to be another ridiculous action movie. After all, it has all the tell-tale signs: Dolph Lundgren, Sylvester Stallone, explosions, violence, and death. But this faux fruitcake is actually a gingerbread house full of delights. Lundgren delivers a solid performance as Badass Santa 2.0, making the audience forget all about that "other" jolly fat man. He's both terrifying and caring, tortured and endearing, masculine and even more masculine. Stallone also gets major kudos for his chillingly realistic portrayal of The Scrooge, a villain so evil that he makes Hannibal Lecter look like nothing more than a drunken heckler spouting off nonsense at a bar mitzvah. The story itself even has something for everyone: action and violence for the men, juiced-up men for the ladies and candy canes for the kiddies. (WARNING: You may want to shield your child's eyes during scenes that DO NOT feature candy canes.)
However, this movie isn't without a few flaws. Morgan Freeman's performance as president is uninspired; it looks like he just recycled his performance from Deep Impact. And Stallone goes a little overboard on the CG effects; for example, Badass Santa 2.0's army of Elf Bots looks cartoonish and is unintentionally hilarious. But, all errors aside, if you're looking to unwrap a Christmas movie that's more explosive and less heartwarming, you'll be remiss if you don't put this surefire holiday classic on your wish list.
By Sarah Van Blaricum
To vote for Badass Santa 2.0 click the "Facebook like" button at the top of the page.
Back to Write Christmas
About The Author