The Horrible Truth About Santa Claus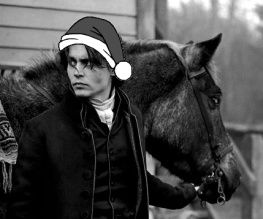 It's fair to say that Tim Burton loves hijacking Christmas. In Pee-wee's Big Adventure, Burton's debut, maniacal man-child Pee-wee causes havoc on a film set, knocking over a Santa sledge during the rescue of his beloved bike. In Batman Returns, the Caped Crusader's second outing with Burton, a troupe of circus performers terrorise the switching on of Gotham's Christmas lights. And in The Nightmare Before Christmas, Jack Skellington, bored with his Pumpkin King title, kidnaps Santa Claus and reinvents himself in the role with disastrous consequences.
Given this interest in tinkering with all things festive, it is not surprising then that Burton is back, this time communing with the spirits of Christmas Past and dishing up with his own gothic twist – re-imagining an origin story for Santa Claus. This is no sequel to Nightmare, and Burton has opted to leave Henry Selick's puppets on the shelf and go for the wizard blend of live action and CGI that shined in Alice in Wonderland. In Horrible Truth, Johnny Depp stars as Mr Klaus, a reclusive Grinch-like glacial highwayman who terrorizes the gentle town of Cold Hollow (twinned with Sleepy Hollow perhaps?).
There is something piratical about the way Mr Klaus robs the Dickensian townsfolk of Cold Hollow and enjoys a drink, but here parallels with Jack Sparrow end. Klaus is less child-friendly and has a cruel edge to him that has not been blunted by Disney executives. The savage reindeer killing and reindeer burger scenes forced McDonalds to remove their Happy Meal tie-in.
The overall plot seems obvious: charting the transformation of child-hating, reindeer-hating Mr Klaus into the jovial Santa Claus we all know. What is unexpected – and where Burton delivers – is how this is unfolded and how we get there. The film kicks off in a gloom-filled snowy cemetery, where rich merchant and storeowner Clement Goodwill (Tom Hardy), and his children Noah (Albert Highmore) and Rose (Hailee Steinfield) pay their respects to the dead Mrs Goodwill. Klaus gatecrashes the party and robs them, but it goes horribly wrong and he kidnaps Clement. As a result, Noah and Rose seek out the powerful Ice Witch Befana to rescue their father. Hardy crackles with charm and there are strong performances from Highmore and Steinfield.
Helena Bonham-Carter's unhinged, immature, sweet-making witch is brilliant: a cross between Edwina from Absolutely Fabulous and Willy Wonka's wife. Befana's massively extended cottage is an opportunity for Burton's bizarre imagination to run riot in potions and pastel colours.
There's much more to enjoy: add Twizzletwig, a mischievous Tangle Wood elf (an hilarious Damon Albarn) bent on revenge, ferocious polar bears, a thrilling chase down a mountainside, a chimney heist, back from the dead reindeer, a curse, a mysterious wrapped present and all sorts of reveals and twists. All in all, it's a fantastic film that's up there with Alice for quirky fantasy adventure and one to hijack your Christmas with.
By Tim Ellis
To vote for The Horrible Truth About Santa Claus click the facebook like button at the top of the page
Back to Write Christmas
About The Author