47 Ronin director axed – after the film has already been shot?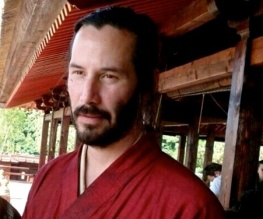 In a bizarre turn-of-events, it's being reporting that Universal Studios has axed the director of their upcoming Keanu Reeves-starring samurai film 47 Ronin – AFTER it's finished shooting.
Carl Rinsch was the man calling the shots on the 3D extravaganza, but after a long-troubled production (the film was initially announced way back in 2008), it seems that Universal have had enough, and removed him from the project. It strikes us as odd, and a little arbitrary, to fire a director once he's already made the film, but with the budget soaring to almost $250 million (that's A QUARTER OF A BILLION DOLLARS, for context), it would appear that the studio has its fair share of reasons. Another problem was a series of recent reshoots, in which Rinsch wanted to boost Reeves' role in the film's climax. With the budget already so bloated, reshoots and additional scenes – which would require additional CGI – were clearly the last straw.
The plot of 47 Ronin is based on one of the most famous of Japanese samurai tales, wherein Keanu Reeves' Kai joins up with a group of warriors who are seeking revenge for the murder of their master. Universal co-chairman Donna Langley has taken over the editing of the film, and if the co-chairmen of the entire studio has had to step in and get her graft on, then that should give some indication of how serious a problem this was for them.
Now, we've heard of directors being fired early into a shoot, or directors wanting to distance themselves from projects by having their names removed from the finished product, but is there a precedent for firing a director after the shoot was completed? According to the report (which comes from an unnamed 'insider' on the production), the studio wanted to get rid of Rinsch before the re-shoots, but due to Directors Guild of America guidelines, weren't able.
Will Rinsch still have his name on the posters, given the apparent animosity between him and the studio? It's a baffling situation, and you have to wonder why a first-time director was entrusted with such a massive production in the first place. It's a gamble that appears to have backfired spectacularly, given that 47 Ronin will now likely need to bank close to half a billion (HALF. A. BILLION.) to break even.
We'll see how it gets on – barring any further set-backs – in December 2013.
About The Author