Adam Sandler is one of the Ridiculous 6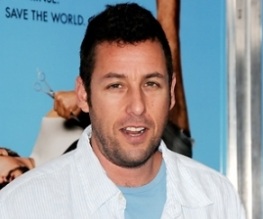 Adam Sandler is set to write, produce and star in a new comedy Western titled Ridiculous 6. Try to contain your excitement. While nothing about the film is yet known, other than that title and the broad genre, we're fairly confident in saying that it's going to be a parody of classic Western The Magnificent Seven. Adam Sandler isn't known for subtleties, so it's a fair bet that the title is exactly what you think it is.
It's been a rough few months to be an Adam Sandler fan. Well, it's been a rough month to be a film-goer who happened to see an Adam Sandler film. We're not sure he really has any fans left. Hotel Transylvania had plenty of problems, but the biggest was undoubtedly Adam Sandler's horrible voice performance, and we won't even get started again on That's My Boy, which remains possibly the single worst comedy ever made (Freddie Got Fingered might have something to say about that, but it's a fairly two horse race at this point.)
The plot of The Magnificent Seven – which is due a remake of its own at some point in the near future – follows a group of seven disparate gunslingers who are hired to protect a Mexican town from bandits. As per the title Ridiculous 6, it's a safe bet that Adam Sandler and whoever he casts as his five ridiculous accomplices, will be "hilariously" inept. We've also stopped taking bets on Danny Trejo making an appearance.
Production is set to begin in April.
Are you excited for another Adam Sandler comedy? Or would you rather he just left us all alone?
About The Author