Al Pacino and Scarface director Brian De Palma team up again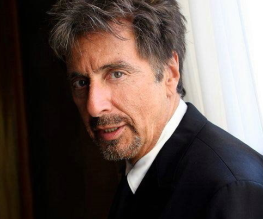 Al Pacino has finally got his career back on track. We hope. Scarface director Brian De Palma and Pacino have once again teamed up for a biopic about the rise and fall of legendary Penn State University football coach, Joe Paterno. If you have never in your life heard about Joe Paterno, fear not. Assuming no-one outside of the USA follows American sports, here's the lowdown:
Joe Paterno was a well-known and respected American sports figure until a sex scandal broke out exposing the assistant coach, Jerry Sadansky, of molesting young boys. Soon after, it was discovered that Paterno had been aware of the child abuse but had taken no action to prevent it. Disgraced and inevitably fired, Paterno was stripped of his NCAA wins (something to do with football) and his statue at the campus torn down, leaving Penn State still, to this day, reeling from the shocking paedophilic actions and loss of one of the most iconic figures in American football.
Heavy story, huh? We're certainly not expecting an inspirational Coach Coater-esque sport film, but are keen to see Al Pacino tackle a challenging role once more, having forgiven the actor for the rather disastrous Righteous Kill – because he's Al Pacino, obvs. It'll be the actor's most intense role since his 2010 'Dr. Death' character in HBO TV film You Don't Know Jack (did we even get this over in the UK? It looks amazing), so we're hoping it'll do all sorts of wonderful things for Al Pacino's career.
The working title for the biopic is currently Happy Valley, based on the book Paterno by Joe Posnanski. American History X and Blow screenwriter Dave McKenna is said to be working on the script. Happy days! This looks like it could be a winner.
Do you miss the bygone days of Dog Day Afternoon and Tony Montana sniffing mountains of cocaine? We sure do. Let's all leave Pacino encouraging messages below:
About The Author