Alan Ritchson for Teenage Mutant Ninja Turtles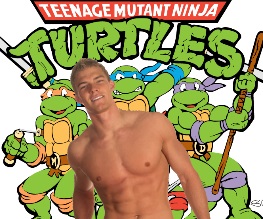 Fans of the original Teenage Mutant Ninja Turtles might want to look away now, as Michael Bay, apparently intent on destroying our childhood memories, has revealed the latest star to join his Megan Fox-based cast. Step up to the bring American idol contestant Alan Ritchson – how's about taking on the role of wise-cracking shell-dude Raphael?
Alan Ritchson, who has starred in a grand total of SEVEN films so far (including the direct-to video superflop Justice League: The New Frontier), is clearly on a mission to become the next top model-turned-actor. We'll be seeing him star as Gloss in The Hunger Games: Catching Fire later this year and now he's set to take on the red bandana wearing Raphael of 90s Teenage Mutant Turtles lore. Think Sai-wielding. Think wise-cracking. Think dangerous levels of sarcasm – Raphael is definitely one of the most beloved TMNT warriors. Can Alan Ritchson REALLY do him justice?
Probably not. Especially as he's contending with Michael Bay's ludicrous new idea of the turtles being aliens – and Megan Fox in the role as journalist April O'Neill. And, unlike the animated turtles of old, the heroes in a half-shell (TURTLE POWER!) will be portrayed using Gollum-style performance capture technology. And, you know, the guy hasn't exactly proven his worth as an actor just yet; he's more about the rock-hard pecs and, obviously, these will be hidden away under a covering of scaly reptilian skin.
So far, Michael Bay (king of explosions and CGI nonsense) has a grand total of TWO cast members for his upcoming reboot of the TMNT series. We wonder how he'll cope when shooting on Teenage Mutant Ninja Turds begins next month…?
Do you think Alan Ritchson will do Raphael justice in the new Teenage Mutant Ninja Turtles movie? REALLY?!
About The Author