Vin Diesel reveals Riddick teaser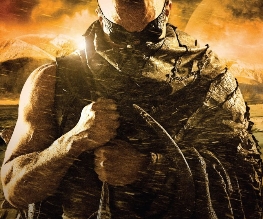 It's the age of the franchise for Vin Diesel. First came the surprise rejuvenation to the Fast & Furious series, with number five grossing over $600 million worldwide and number six ready to hit US cinemas on May 24th this year. Looks like Diesel is hoping for a similar touch of gold for his Riddick trilogy and he's not beyond using his social media account to build up the hype. Diesel logged on to Facebook to publish the first teaser trailer for the upcoming sequel.
Catch up with the silver-eyed anti-hero below:

At the end of The Chronicles of Riddick, our titular lone wolf had found himself in the position of Lord Marshal after having killed the previous in vengeance for the death of his beloved Jack (re-named Kyra). David Twohy's screenplay seems to have abandoned this particular line of development and instead opted for a more Pitch Black-esque scenario in which Riddick finds himself back on a sun-scorched planet battling an alien race of lethal predators. To top it all off, he will find himself hunted by not just one ship of mercenaries but also a pursuer with a more personal agenda.
Karl Urban will be reprising his role as Vaako while, Katee Sackhoff, Jordi Molla, Bokeem Woodbine, Matt Nable, Nolan Funk and Dave Bautista have been added to the cast. Expect this to be a full on rendition of violence with an R-rating, as per the explicit wishes of both its director and main star.
Riddick will be seen in theatres on September 6th.
Are you suitable teased by the snippet? Are you keen to see how this trilogy will conclude? Or do you wish they would just stop flogging the dead horse already? Rants and raves welcome!
About The Author