All You Need Is Kill synopsis revealed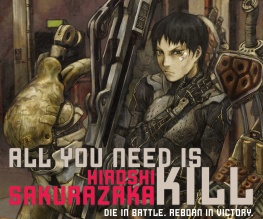 We've got the synopsis for Doug Liman's new sci-fi movie All You Need Is Kill, based on a Japanese sci-fi novel, and starring Tom Cruise, and it's… well, it's… Oh, look, just read it, and we'll see you on the other side, okay?
"The story unfolds in a near future in which a hive-like alien race, called Mimics, have hit the Earth in an unrelenting assault, shredding great cities to rubble and leaving millions of human casualties in their wake. No army in the world can match the speed, brutality or seeming prescience of the weaponized Mimic fighters or their telepathic commanders. But now the world's armies have joined forces for a last stand offensive against the alien horde, with no second chances."
"Lt. Col. Bill Cage (Cruise) is an officer who has never seen a day of combat when he is unceremoniously demoted and then dropped — untrained and ill-equipped — into what amounts to little more than a suicide mission. Cage is killed within minutes, managing to take an Alpha down with him. But, impossibly, he awakens back at the beginning of the same hellish day, and is forced to fight and die again… and again. Direct physical contact with the alien has thrown him into a time loop — dooming him to live out the same brutal combat over and over."
"But with each pass, Cage becomes tougher, smarter, and able to engage the Mimics with increasing skill, alongside Special Forces warrior Rita Vrataski (Blunt), who has laid waste to more Mimics than anyone on Earth. As Cage and Rita take the fight to the aliens, each repeated battle becomes an opportunity to find the key to annihilating the alien invaders and saving the Earth."
Still with us? Good. Still excited for the film? No, we're not sure either. The presence of Doug Liman is just about all that's keeping the faith alive at this point. This is one of those synopses that is just expansive and bonkers enough to be brilliant, but that usually ends up looking more like this. Not to mention that the premise of Tom Cruise's character repeating the same scenario over and over sounds more than a little derivative of Duncan Jones' recent Source Code (which was itself derivative of Zzzz…)
Tom Cruise proved with Mission: Impossible – Ghost Protocol that he can still hold his own in the action stakes, and while Liman hasn't produced a bona-fide great movie since The Bourne Identity, we believe that he's capable of making this work. But there's a hell of a lot that could go wrong between now and then.
And while we're at it, what the hell is going on with that title? All We Need Is Kill? That's bullshit. That doesn't even make sense! Given that it's taken from a Japanese novel, it's possible something got lost in translation, but why wouldn't they change it? Unless the word 'kill' has simply pissed someone off in Hollywood, what with this coming hot on the heels of the equally awfully titled Killing Them Softly.
Anyway, we're hoping for more of a District 9 feel than Battlefield Earth, but we'll have to wait until 14 March 2014 to find out if Liman and co can make this work.
About The Author