Amazing Spider-Man 2: full synopsis and new cast member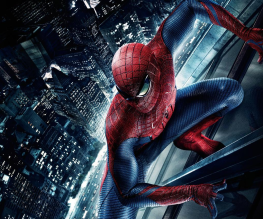 New enemies and old friends feature in the new plot for The Amazing Spider-Man 2, and after the news that Jamie Foxx is set to play new villain Electro in the upcoming sequel, the full synopsis couldn't come soon enough for fans. The official press release also confirms Paul Giamatti as Rhino, who was previously only in talks to join the cast. Thor's Colm Feore will also be starring in The Amazing Spider-Man 2, though his role is yet to be announced.
Feast your eyes on the full synopsis below, straight from SuperheroHype:
"In The Amazing Spider-Man 2, for Peter Parker (Andrew Garfield), life is busy. Between taking out the bad guys as Spider-Man and spending time with the person he loves, Gwen (Emma Stone), high school graduation can't come quickly enough. Peter hasn't forgotten about the promise he made to Gwen's father to protect her by staying away – but that's a promise he just can't keep. Things will change for Peter when a new villain, Electro (Jamie Foxx), emerges, an old friend, Harry Osborn (Dane DeHaan), returns, and Peter uncovers new clues about his past."
The good news: the introduction of two new villains, Rhino and Electro, will make Amazing Spider-Man 2 slightly more interesting than just watching Andrew Garfield swing from ridiculously tall buildings in a spandex suit. And Andrew Garfield is just so lovely, isn't he? The bad news: well… there isn't really any, though none of us at BFF are particularly desperate to see Amazing Spider-Man 2, what with a whole galaxy full of exciting Marvel news i.e. SPIN-OFF HULK MOVIES!
Directed by Marc Webb, The Amazing Spider-Man 2 hits cinemas on 18 April, 2014.
Does the plot for Amazing Spider-Man 2 do anything exciting for you? Who will Colm Feore play?! Share your thoughts below!
About The Author