Amy Adams & Christoph Waltz in Tim Burton's Big Eyes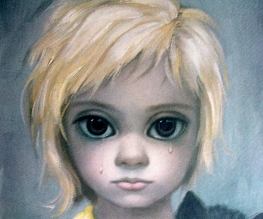 It's been a long road for this biopic project; six years to be exact. Developed by writers Scott Alexander and Larry Karaszewski (remember Ed Wood? The People vs. Larry Flynt? Man on the Moon? Now you know who wrote them) it was set up to be their directorial debut. Instead it seems Tim Burton has taken over the small scale domestic drama, a story and production that is said to be world's away from what we are usually accustomed to when it comes to this composer of the weird and wonderfully wacky.
As the years have passed first the duo of Thomas Haden Church and Kate Hudson were said to be attached before the star power of a Ryan Reynolds/Reese Witherspoon combo took over in 2012. Now it seems even this has fallen through leaving room for Academy Award winner Christoph Waltz and the delectable Amy Adams to step into the lead roles. The film will follow the true story of Walter and Margaret Keane, a married couple that took the 1950s/60s art world by storm with their painting of large-eyed children (hence the title of Big Eyes). The drama comes from the legal battle that took place after their split in which Walter attempted to claim credit for the work that was created by his wife. In an ultimate showdown they faced off in a paint down which Margaret won hands down while Walter complained of a pain in his arm.
After the floundering Frankenweenie, Burton just might need a project like this to shake off the cobwebs. With the Weinstein Company now involved in the financing and distribution of the final project we could be expecting a production date sometime this summer. It seems the stars are all aligning to make this into an exciting bit of cinema.
Do we agree that Christopher Waltz and Amy Adams are the more appropriate choice for this kind of story? Or are you disappointed that the dazzle of Ryan Reynolds and Reese Witherspoon won't be hitting your screens anytime soon? Have your say here!
About The Author