Anchorman 2 will have musical numbers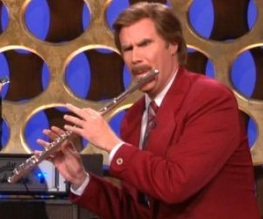 Anchorman 2 will contain some all-singing, possibly all-dancing musical numbers, according to director Adam McKay. Not exactly surprising news, but it is indeed welcome. Given McKay's propensity for the inclusion of a capella versions of classics like Afternoon Delight in Anchorman and a stirring rendition of Sweet Child O' Mine in Step Brothers, we expect big things from Will Ferrell and the Channel 4 News Team's pipes in 2013.
"There will be some music in 'Anchorman 2' though for sure, we have some songs already written," McKay stated, adding "We were going to do 'Anchorman 2' as a Broadway musical first, for like six months and then go shoot the movie. That was our initial idea." So, can we expect full-blown musical numbers? McKay is confident it's a winning idea: "Whole song sequences, absolutely," he enthuses, revealing that "We always do it live on the set." Les Mis eat your heart out.
Anchorman 2 is currently being hammered out on paper by Ferrell and McKay, though it seems a waste of A4 considering the generous bounty of ad-libbed material that usually makes it to the final cut of their collaborations. The long-awaited sequel will apparently take a more topical route to delivering the laughs, with McKay proffering: "Even thought it's going to be a big silly movie, it's all about the rise of the new media and 24 hour news cycle, and there's a lot of interesting points to make about that while being silly." As long as there's an extended jazz flute solo somewhere in there, we'll be happy.
About The Author