Andy Samberg hosting the Indie Spirit Awards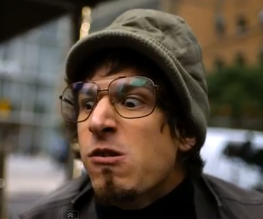 Andy Samberg, of Saturday Night Live, The Lonely Island, Celeste & Jesse Forever and, um, That's My Boy, will be hosting the 2013 Independent Spirit Awards. This news was met with utter bemusement here at BFF Towers. This odd choice of Andy Samberg as host becomes less strange the more you think about it: Celeste & Jesse Forever was definitely indie, and he also played a homeless man in Nick and Norah's Infinite Playlist
So, yeah. Andy Samberg is indie. We guess.
Last year's Independent Spirit Awards were hosted by Seth Rogen, so the choice of Andy Samberg is at least a step towards the rational. Silver Linings Playbook and Moonrise Kingdom are dominating in terms of nominations, but Andy Samberg's own Celeste & Jesse Forever will make an attempt to win Best Screenplay. Considering the caliber of the competition in this year's awards, Celeste & Jesse will be hard-pressed to walk away with an award.
Andy Samberg, when he's not making paradigm-shifting music with The Lonely Island, has been busy making movies. Aside from Celeste & Jesse Forever and That's My Boy, he also recently lent his vocal talents to Hotel Transylvania. At the moment Andy Samberg is working on Cloudy 2: Revenge of the Leftovers (uh-oh) and Grown Ups 2 (uh-oh times a billion), in which he will appear as "male cheerleader" alongside Adam Sandler (fuck off), Kevin James (fuck off) and the shattered remains of his promising career.
Oh well, it was good while it lasted. Let us all remember Andy Samberg's legacy by throwing things on the ground:
Andy Samberg: at the start of a burgeoning career in film or on the precipice of disaster? Stay away from Adam Sandler, Andy, he'll only destroy you.
About The Author