Avatar Blows the Critics Away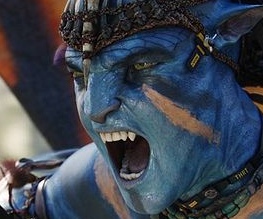 After months of speculation, debate, rumours and one of the most aggressive cinematic marketing pushes of recent memory, Avatar received its premiere last night in London. Despite a flurry of non-disclosure agreements being signed left, right and centre the press just couldn't wait. Both The Guardian and The Hollywood Reporter filed reviews before the agreed deadline of Monday, followed by a slew of others.
And the overwhelming consensus is that Avatar is one of the most accomplished cinematic events of the last ten years.
Despite rumours and backbiting that Cameron's five-year project would turn out to be a festive turkey, not one of the reviews that have materialised online have a bad thing to say about it. The Guardian (hedging its bets due to the NDA) says "the terrible film that some had been anticipating had not materialised. It was good." According to The Sun "it's absolutely mind-blowing", and the Hollywood Reporter and Variety were even more effusive in their praise. "The screen is alive with more action and the soundtrack pops with more robust music than any dozen sci-fi shoot-'em-ups you care to mention" gushed THR. Variety went even further: "Cameron delivers again with a film of universal appeal that just about everyone who ever goes to the movies will need to see."
OK, so we're officially excited about Avatar again. Sadly, Jimmy Cameron still isn't returning our calls, so you'll have to wait until the 17th before a review from us (sorry). Rest assured, though – we'll tell it like it is, with the sarcasm at no extra charge.
Are you still looking forward to Avatar, or are all the reviews just part of the hype? Leave us your comments below!
About The Author