Bardem and Renner in talks for Ridley Scott's The Counselor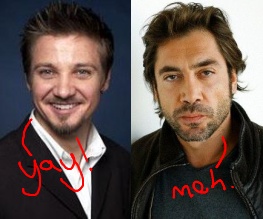 Just a couple of weeks after the unexpected but very welcome news that Michael Fassbender is to star in The Counselor, Ridley Scott's newest film (written by Cormac McCarthy, no less), we've got some exciting new hints as to the possible identity of the principal villain.
We previously speculated that Javier Bardem, who won an Oscar for his performance in McCarthy's No Country for Old Men, might be back to tear it up once more. This sounds more than possible, but he's got competition in the form of man-of-the-moment Jeremy Renner, the heir to the Mission: Impossible and Bourne franchises. Whilst quondam contender Brad Pitt is apparently out of the running, Bardem and Renner are both in preliminary talks with producers to shoulder the role of 'Reiner'.
Twitchfilm reports that Bardem is Scott's preferred choice, and also that he's doing his best to snare a second Oscar winner for his principal cast – he's keen for the lead role of Laura to go to Natalie Portman, who's been keeping out of the spotlights in order to spend time with her husband and infant son. Whilst Scott has obviously been hard at work with Michael Fassbender on Prometheus, he has never worked with any of the other actors named above so there's not much to give us any clues – that said, we'd be unwilling to bet against Javier Bardem when a McCarthy script's in the works. Nothing's certain yet, but you'll be the first to know when we do!
Who's your pick for Reiner? Let us know below!
About The Author