Become a superhero artist with NOW TV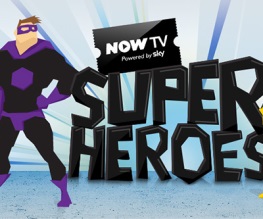 We know how you lot feel about superheroes, and we didn't feel like it was fair to let this one past you. Thanks to the magic of press releases, we've just heard about a rather jammy scheme being run by NOW TV, and what's the point in having a film site if you don't promote fun free stuff occasionally? What we're getting at is this: we bet you'd bloody love to be Stan Lee. Who wouldn't? And now you can (sort of).
To celebrate the plethora of superhero movies currently available on NOW TV, the film (yay!) and sports (ugh) streaming service powered by Sky, cape-crazed viewers are currently being encouraged to enter a rather interesting competition. By heading here and uploading a drawing of an original superhero complete with his or her vital statistics, you'll be entered onto a leaderboard which, after becoming horribly partisan as these things always do, will deliver the top three fictional (you know what we mean) superheroes as voted for by other users of the service. These three crayoned crusaders will then be brought to life in a professional animated short, premiering on the NOW TV YouTube channel.
But that's not all! It'll take a combination of luck and skill worthy of the X-Men to get into that top 3, so there's another way to win – the first 500 users to submit their superhero drawing will have it transformed into a free t-shirt. And if you don't want to send your drawings in like you're writing to Blue Peter in 1995, you can still sign up for a free trial of NOW TV. Everyone's a winner!
Will you be entering NOW TV's Design a Superhero competition? Let us know below!
About The Author