Bill Nighy to play a demon in I, Frankenstein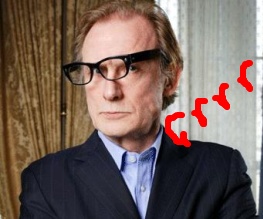 Bill Nighy has joined the cast of Stuart Beattie's upcoming monster flick I, Frankenstein. According to Cinema Blend, the film stars Aaron Eckhart as a monster named Adam, who is hounded by demons demanding to know how he was created. Rude or what? You know, demons, you should never ask a lady how old she is or a monster how he was created. It's common courtesy.
Apparently Nighy will be playing Demon Numero Uno, the top banana of the demon world, if you will. And costarring as one of his demon henchmen is Socratis Otto, who memorably played the Lead Technician in X-Men Origins: Wolverine. Nice to see Otto back on the screen! This is only Beattie's second film as a director, but he has previously written the scripts for Australia and GI Joe: The Rise of Cobra. So I, Frankenstein could potentially sit somewhere in the middle of those two films. Here's hoping!
About The Author