Bond 23 – Skyfall?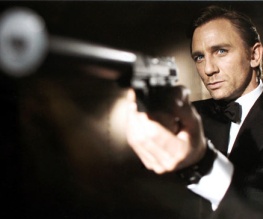 Carrying on from last month's speculation that the 23rd Bond film would be called Carte Blanche, some of those clever internet people have come up with a new theory – they think it'll be called Skyfall.
Christ knows how this happens, but someone noticed that brand protection company Mark Monitor (whose clients include Sony Pictures) have recently registered URLs including skyfallfilm.com, skyfallthemovie.com and, crucially, jamesbondskyfall.com.
If Skyfall (or, potentially, Sky Fall) did turn out to be the title, it would be the seventh Bond film title not to be taken directly from a book; the others are Never Say Never Again, License To Kill, Goldeneye, Tomorrow Never Dies, The World Is Not Enough and Die Another Day).
Skyfall would also represent another rejection for the four remaining Fleming titles never to be given to films. Perhaps Bond fans should lobby Eon and demand that Risico, The Property of a Lady and The Hildebrand Rarity finally get given an airing? And as for the frankly bloody matchless 007 in New York…
Would you prefer James Bond: Pig in the City? Let us know below!
About The Author