Breaking Dawn part 2 has a great sense of humour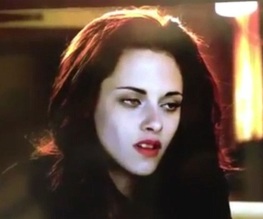 Like reassuring words from a dentist performing a root canal, just keep telling yourself: it's nearly over. There ought to be at least a few months of calm between the second part of Breaking Dawn and the appearance of the first 50 Shades film, so let's all look forward to the respite.
Meantime, amusing bits and bobs from the upcoming final installment of the Twilight franchise keep popping up for our sneering pleasure. Recently, it appeared that Breaking Dawn Part 2 would feature some comic relief in the form of the ancient vampiric tradition of arm-wrestling. Judging by that and the clip below, it seems all the funny bits are being leaked in advance. Presumably so the audience knows when they're supposed to laugh.
Being a bloodsucker now, Bella has to learn how to act like a human! Which means slouching lessons, how many times to blink per minute, and all the other slovenly crap we get up to while we're wasting time watching Twilight clips online. Given the misfortune of having delivered one of the most consistently leaden, narcoleptic performances in recent memory as Bella, the clip of Kristen Stewart receiving such basic acting lessons is actually worth a chuckle.
Then we remembered it's still Twilight, and had to whip ourselves.
About The Author