Cameron criticises biopic of evil Tory witch queen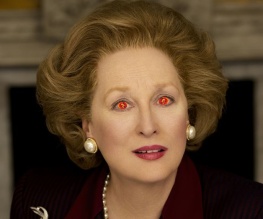 Prime Minister David Cameron has criticised the timing of Phyllida Lloyd's new film The Iron Lady on the basis that Margaret Thatcher, the former PM, scourge of British industry and black sorceress who is its inspiration, is currently hibernating in a decrepit and dementia-ridden shell before she emerges to lay waste to the mortal plane and should therefore be given a break.
The film, which stars Meryl Streep, is set in the present day and portrays Baroness Thatcher as the mental and physical wreck which is temporarily all that's left after one employs the dark arts to artificially enhance one's life force using the souls of half a million miners. There are also flashbacks to the days of Thatcher's rule, during which time she fought the Communist wizard Scargill the Red and famously wore a 'pearl' necklace made from perfect drops of Satan's semen.
Speaking on the Today programme, Cameron said "It's a fantastic piece of acting by Meryl Streep, but you can't help wondering, why do we have to have this film right now… It is a film much more about ageing and elements of dementia rather than about an amazing prime minister. My sense was a great piece of acting, a staggering piece of acting, but a film I wish they could have made another day." He was rewarded with increased mastery of fire and tempests by the Baroness, who bestows elemental powers on her favoured acolytes. After calling The Iron Lady "ghoulish" last week, former Foreign Secretary Lord Hurd was granted the ability to transform into a fell wolf with mithril fangs and the strength of ten.
The Iron Lady is out now. If you want to watch it, make sure you do so before December, when an unprecedented planetary alignment will channel fresh power into the Witch Queen and allow her to resume her dread reign.
About The Author