Carrie teaser is bold and bloody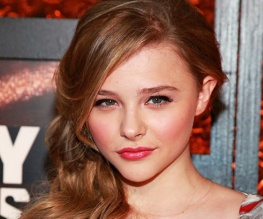 Carrie has followed the reveal of its first poster with the reveal of its first teaser trailer, and it's a doozy! A remake of the 1976 classic, Carrie will see Chloë Moretz taking over from Sissy Spacek in the title role. It's the second adaptation of one of legendary author Stephen King's most enduringly popular works, and if this teaser anything to go by, it looks to be somewhat bigger in scope than Brian De Palma's first version. See for yourself!
Following a young girl who is brought up by her damagingly oppressive religious zealot of a mother, the plot sees the latent telekenisis abilities that reside within young Carrie explode into life as the trials and tribulations of being a teenage outcast get all too much for her. The results are violent and bloody. And by the looks of this new version, explosive! Featuring a scale of devastation unseen in the original, the camera swoops across a burning town, as various voice-clips from the film play over the soundtrack, before zooming in to settle on Chloe Moretz' Carrie at the centre of it all, covered in blood, and looking terrifying – and terrified.
And that's what's great about the trailer (aside from the striking visuals and intriguing scenes of devastation); that Carrie herself isn't a vicious monster; she hasn't caused this destruction out of malice, and when Moretz looks up, she looks as terrified as the rest of the townsfolk likely do. Moretz is a great young actress, and we can't wait to see her battling Carrie's demons and wrestling with the ramifications of what she's done. Also we can't wait to see her destroy an entire fucking town!
Has this teaser whetted your appetite for Carrie? Or is this still a remake too far?
About The Author