Channing Tatum to direct Magic Mike 2?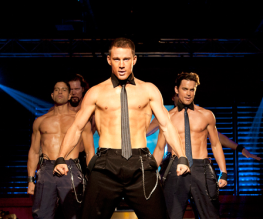 Reports suggest that Channing Tatum could be poised to step into the director's chair for the sequel to Magic Mike. With Steven Soderburgh's retirement supposedly on the cards, Tatum apparently fancies himself a bit of an auteur and wants to take his place. The film is not even in production yet, so this news should be taken with a heart attack inducing quantity of salt, but we would be lying if we said we weren't slightly intrigued at the thought of Tatum flexing his directorial muscles.
Whilst Robert De Niro he aint, Tatum has shown some signs of improvement in his acting recently and he's currently straddling the line between becoming typecast as a bland heartthrob and being considered a competent leading man. A strong directorial debut could be what's needed to push him into the latter category. Magic Mike was by all accounts a massive success and made a total of $113 million, meaning that if the rumors are true, Tatum has some pretty big shoes to fill.
Tatum has also proffered some tantalizing tidbits concerning the plot and setting for the sequel saying, "We have a story, and it is really ridiculous and fun. It's a road movie sort of thing, where a bunch of strippers get back together." Whether Tatum is getting a little too big for his boots or he does indeed possess the minerals to head the project, the proposed concept has legs and a definite target audience. We'll be keeping an eye on this one.
About The Author