Colin Firth and Emily Blunt to star in new comedy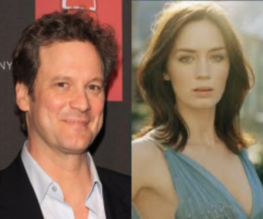 Fresh from winning every Best Actor award going and charming the pants off the world with his delightfully humorous acceptance speeches, luckiest man alive Colin Firth, 51, will be starring in a romantic-comedy alongside 29-year-old Emily Blunt, it has been revealed.
Despite there being two whole decades between them, the pair will star in a story about two people escaping their pasts and breaking into other peoples' empty houses to live out the lives of the missing inhabitants. Whilst they're doing this – yep , you guessed it – they only go and fall in bloody love!
Firth seems to be getting a taste for adventure as he is also set to star in another crime based film, Gambit, about an art curator who employs a Texas steer roper to con an art collector into buying a phony Monet painting. In Gambit he will be starring alongside Cameron Diaz (and Alan Rickman). Life is looking pretty peachy for Colin at the moment.
Advert director Dante Ariola is taking the wheel on the untitled comedy whilst Focus Features are trying to sell the thing to distributers at Cannes.
About The Author