Conan The Barbarian Gets Served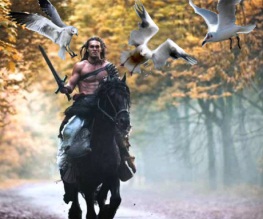 It appears that Stan Lee Media, Inc, a company built by comic book legend Stan Lee, is made up of the seagulls in Finding Nemo, incessantly chirping the words "mine! mine! mine!". They've filed a lawsuit against Nu Image / Milennium Films, the makers of the new Conan The Barbarian movie, demanding 100% of the film's proceeds.
Why?
Because they OWN Conan's character, that's why! Or, at the very least, they think they do, which is pretty much the same thing. Claiming to have been "betrayed" by a former lawyer, the rights of the character were transferred illegally to another company, who, in turn, gave the new Conan movie the go-ahead.
To be completely honest, the new flick has received absolutely terrible reviews and barely scraped $10 million at opening weekend, so Stan Lee Media, Inc. might want to rethink this battle, as they'll be tying their name to a sinking ship. It's a little like buying the Titanic post-iceberg…you already know it's going to end in misery and despair, stuck rotting at the bottom of the ocean. Senseless, utterly senseless.
Either way, Jason Momoa will be seen wielding his massive sword in UK cinemas from the 24th August… that's TOMORROW, for those without a diary to hand. Why don't you sink your teeth into the trailer and make up your own mind on this, erm, interesting-looking remake…
About The Author