Cuba Gooding Jr. involved in municipal battery charge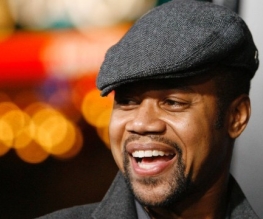 Oh dear Cuba, look who's gone and got themselves an arrest warrant for 'shoving'. Mr. Jr found himself in a bar in the French Quarter of New Orleans in the early hours of yesterday morning and got himself a bit upset when everyone wanted to take his picture. There was some 'agitation' and some 'swearing' and then a female bartender approached him to ask him to calm down and that's when things really kicked off.
He "PUSHED HER AWAY WITH AN OPEN HAND"! Holy Shit Cuba, what's the matter with you? Crowd gathers, cameras going off in your face, all you wanted was a quiet bourbon and then someone tells you to calm down and you push them away?! Absolutely disgraceful.
Police are under instructions to arrest Cuba on sight. Sure, we're not the FBI or anything, but we reckon a fairly safe bet would be to go and find him on set for The Butler, where he's currently filming with Oprah Winfrey and Lenny Kravitz, as well as most of Hollywood.
About The Author