Fast & Furious 6 claims it has a plot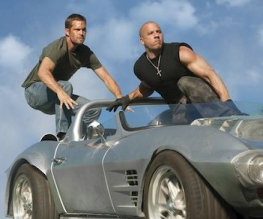 Not since Vin Diesel dropped some ultra boring photos from the set of Fast & Furious 6 (sadly not titled Fast Six) have we heard anything more about the muscle-tastic franchise. It looks like we're in for a treat today however, with a newly-released Fast & Furious 6 synopsis ready and waiting for our eager eyes. And don't worry, Vinnie will still be pumping up the diesel. BOOM.
Check out the synopsis from Collider:
"Since Dom (Vin Diesel) and Brian's (Paul Walker) Rio heist toppled a kingpin's empire and left their crew with $100 million, our heroes have scattered across the globe. But their inability to return home and living forever on the lam have left their lives incomplete.
Meanwhile, Hobbs (Dwayne Johnson) has been tracking an organization of lethally skilled mercenary drivers across 12 countries, whose mastermind (Luke Evans) is aided by a ruthless second-in-command revealed to be the love Dom thought was dead, Letty (Michelle Rodriguez). The only way to stop the criminal outfit is to outmatch them at street level, so Hobbs asks Dom to assemble his elite team in London. Payment? Full pardons for all of them so they can return home and make their families whole again."
SO WHAT it sounds like every other Fast & Furious film. VIN DIESEL and THE ROCK will be gliding across our screens once again with their oily truck sized arms in even faster cars. Plus, since the reasonably successful (and actually good) Fast Five, original F&F director Justin Lin will be returning to direct Fast and Furious 6. And it just so happens that both screenwriter Chris Morgan and Lin have decided that there's just too much story to fit all into one film, so Fast & Furious 6 will be written back-to-back with Fast & Furious 7. Going overboard, a little, chaps?
Expect the first bit of footage from Fast & Furious 6 to be aired this week at the Super Bowl. Until then, let's watch a video of The Rock serenading Michael Caine.
Don't you just love Dwayney pie? Are you looking forward to F&F 6? No? WHY NOT?
About The Author