First Pictures of Anne Hathaway as Catwoman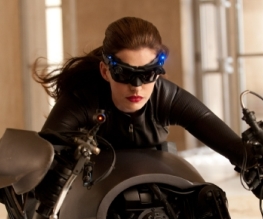 When we first heard that Anne Hathaway was cast as Catwoman in The Dark Knight Rises, well, we were a little confused. Boring old Anne Hathaway playing super sexy Catwoman? The girl from The Princess Diaries? Taking on a role made famous by Michelle Pfeiffer? Well, after the glut of images emerging from Camp Nolan, we can now take our first peek at Hathaway's Selena Kyle.
Click to biggify:
Yep, it looks like something out of Spy Kids, either that or she's really late to see a 3D film…possibly the new Spy Kids film…which is actually in 4D, come to think of it…Ricky Gervais is in it, playing a dog…what? 4D? Oh, it means it has smell-a-vision…Yes, John Waters did do that in the 80s! Have you seen Polyester?…Hold on, wasn't I talking about Anne Hathaway?
LOOK HOW BORED YOU CAN GET WHEN YOU HAVE TO TALK ABOUT ANNE HATHAWAY! We can only hope that Nolan knows what he's doing and that she actually pulls off a performance to match her excellent supporting cast. In truth, she can't be any worse than Katie Holmes, or as we like to call her, Nolan's Folly.
What do you think of Anne Hathaway as Catwoman? Is The Dark Knight Rises your most anticipated film of 2012?
About The Author