First teaser poster for MiB 3 hits the interwebs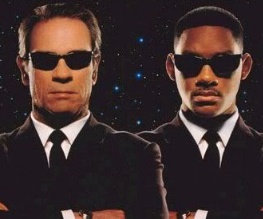 Who doesn't love a vague wave of nausea accompanied by crippling excitement of a Monday morning? The first poster for MiB 3 has turned up online (courtesy of Collider) and it's… it's… IT'S A SORT OF PICTURE OF TOMMY LEE. AND IT'S A BIT SICK-INDUCING!
It reveals nothing new, but seeing as we're already fairly firm on the plot (Agent J goes back in time to save a young K, Jemaine Clement from Flight Of The Conchords gets involved, probably aliens turn up…), we're happy to look at the good ol' shades of Tommy Lee for now. Ta-da:
Interesting that Tommy Lee is the one fronting the first promo campaign, seeing as by all accounts he'll be taking a back seat to Josh Brolin and Will Smith. But hey, sometimes you just have to give the people what they want, and what everyone always wants is Tommy Lee Jones. We've got a while until the release date (May 2012) so there's plenty of time to get slightly drunk off looking at posters. Hurrah!
About The Author