First The Devil's Double trailer now online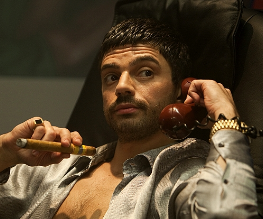 …and it looks like Dominic Cooper is stepping up his game. Based on a memoir by Latif Yahia, The Devil's Double centres on the young man recruited to be the body double for Uday Hussian – Saddam Hussian's one time heir apparent. Famously cruel, psychotic and arrogant, Uday Hussian was known for his acts of horrifying brutality, once murdering his father's valet at a party for no reason other than his disapproval of a woman the valet had introduced his father to.
With such dark subject matter, we had no idea what to expect from The Devil's Double. But it certainly wasn't this:
It's loud, brash, funny and totally mental. Directed by Lee Tamahori of Die Another Day and Along Came A Spider fame, we're actually pretty blooming impressed. Cooper looks like he's in his absolute element, it's confident, stylish and frankly, we can't wait to see a bit more.
About The Author