Franco to star in indie flick Cherry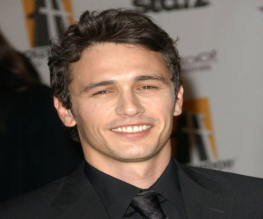 Of course James Franco is doing another film, of course he is. The actor who spreads himself thin across multiple university courses, writing a short novel, winning the battle to direct adaptations of two classic American novels, planning to teach a course at NYU AND hosting the Oscars has signed up for indie flick Cherry, alongside Brit star Dev Patel and Heather Graham.
We genuinely don't understand how it is possible to do the amount of work he does, unless he does everything but the acting utterly half-assed (which could happen, has anybody read his book? Or his term papers? We won't mention the Oscars).
Cherry has been written by novelist Stephen Elliot and Lorelei Lee, and follows the journey of an 18-year-old girl as she moves to San Francisco and gets herself involved in the adult film industry. Franco will be playing a lawyer-cum-cocaine-huffer, with Graham playing an ex porn starlet and Patel filling the role of best friend. Elliot is taking the helm on directing his own script.
Franco is planning on squeezing in this film just before he starts shooting Sam Raimi's Oz, The Great and Powerful and will soon be appearing in Rise of the Planet of The Apes, which is currently in post-production.
About The Author