Girl With The Dragon Tattoo the English version?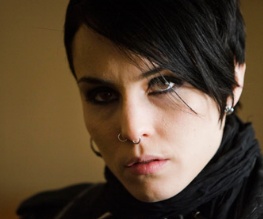 You know us English types. If there's one thing we hate, it's reading subtitles. Reading? Are you mad? Why should we? Let the rest of the world not understand, goddammit, we're just going to shut our eyes and hold up a big ol' stop sign to international culture. Thank goodness then, that an English speaking version of Swedish mega-hit The Girl With The Dragon Tattoo is being made. And it's even got an initial release date – of December 2011.
The original film was based on the first book in the Swedish author Stieg Larsson's Millennium trilogy. The story explored a missing person mystery taken on by an investigative journalist, and what happens when a young female hacker named Salander gets involved with the proceedings. It's a taut, grusome and nail-biting thriller, and we're not really sure (at all) that an English re-make is neccessary. Especially just a year after the original comes out. The second film (Swedish version) – The Girl Who Played With Fire, is being made as we speak, so we could be in a situation where both the first and second part of the same trilogy hit our screens at the same time. Weird?
Do you want to see an English Girl With The Dragon Tattoo? Let us know what you think…
About The Author