Green Day: The Musical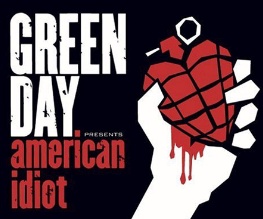 Well, if Abba can do it with Mamma Mia, why not Green Day? Because it feels dirty and wrong, is why.
It's been revealed today that Tom Hanks and his Playtone production company are currently looking to lock down the film rights to the Green Day musical, which doesn't even hit the stage until in New York until April 20th. What's that, you didn't know there was a Green Day musical? Yeah. Neither did we.
American Idiot apparently follows the coming-of-age story of three small-town friends. One joins the army, one moves to the big city and falls into drug addiction and the third gets his girlfriend pregnant. So all joyful stuff then.
Thing is, Greenday (back when we were angsty kids with lots of black T-shirts) were supposed to represent everything that the musical world wasn't. Anarchy! Depression! Crippling insecurity! Lots of white-toothed tanned kids singing 'Minority'? It just doesn't smell right. The good news is that its being directed by Michael Mayer of Spring Awakening; a genuinely brilliant angsty teen musical. So perhaps there's hope for the idea yet.
What's your opinion of a Green Day Musical? Let us know below
About The Author