Gremlins reboot rumours spark nostalgic anger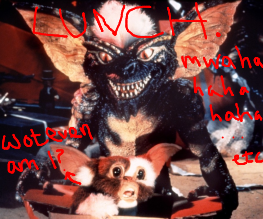 Being the only human left on planet Earth that has never seen Gremlins, apparently rumours of a Gremlin remake/re-something means that shit has hit the FAN. My only way to sympathise is to imagine if Stand By Me ever got remade, in which case you'll see me crying in a corner for days on end mourning the loss of River Phoenix. So, don't worry guys, I understand that it sucks, and here's me telling you that nothing has yet been confirmed.
Warner Bros. is, however, in talks with Steven Spielberg's Amblin Entertainment over a reboot of the much beloved and frankly weird as hell Gremlin franchise. Reboots of classic films always cause panic and outrage at having their favourite childhood film (imagine a remake of The Little Rascals? *shudders*) remade for absolutely no viable reason except that filmakers have literally run out of storylines. But, on the plus side, you may even get to see your creepy pixie goblin things even more real because it might even be in 3D! How EXCITING would that be?
Please don't kill me.
But seriously, if you actually are thrilled at the prospect of a new Gremlins film, then curb your enthusiasm, folks. Rumours of the franchise reboot has been circulating for years and so far, no-one has agreed to anything. Empire believe it is unlikely that original producer Steven Spielberg will part with the rights to the film unless under specific conditions. But Gremlins offers huge brand value and stirs up a wide audience, what with the original audience as well as a younger generation possibly being interested in the film. The fact that Warner Bros. have gone back into talks with Amblin Entertainment suggests that something may have changed, and things may be looking more positive for the demon elves (furbies?).
Okay, enough insulting of the gremlins. But seriously, what even are they? I'll have a word with myself over never having watched the film, but meanwhile ask yourself why these little nymphs are so enchanting. DO THEY HAVE A SPELL OVER YOU? DO THEY?!
Excited or positively FURIOUS at the prospect of a Gremlins reboot? To 3D or not to 3D? That is the question that nobody wants to hear the answer to. Vent below.
About The Author