Guillermo del Toro's new horror might star Emma Stone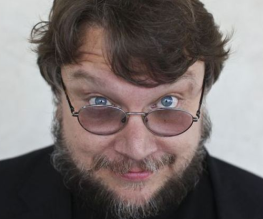 The Gangster Squad femme fatale Emma Stone is in talks to star in Guillermo del Toro's new gothic horror Crimson Peak. (HOW MUCH AWESOME IS THAT IN ONE SENTENCE?) The Pacific Rim director is planning on making his very own haunted house horror with a classic del Toro twist; "It will allow me to play with the conventions of the genre I know and love, and at the same time subvert the old rules." Expect scary rams.
What with evil-child horror Mama soon to hit cinemas (22 February) and the wonder that was the dark fairy tale fantasy Pan's Labyrinth under his belt, you can be sure that Guillermo del Toro is very serious about putting a spin on the classical haunted house genre. If you've already dismissed Crimson Peak as a stereotypical dark-house-at-the-top-of-a-hill-scream-queen-early-1900s bit of mush then you HAVE NO FAITH. Yes, it includes all of these things, but don't panic because this is DEL TORO we're talking about. The visionary director and birth-giver of the creepiest monster in a labyrinth has reassured us that "those are the classical elements, but how we go about it is very different. It's going to be scary and at the same time, emotionally upsetting." YAY.
Did we also mention that Emma Stone might be starring?
Essentially we at Best For Film are psyching you up for another masterful del Toro tale that always has us loving the Mexican director more than life itself. And if you can't wait until then, may we remind you that you still have Tom Waits and Christopher Walken to ogle at in del Toro's sinister take on Pinocchio. Not enough awesome? Go home.
About The Author