Insidious 2 possessing your cinema in 2013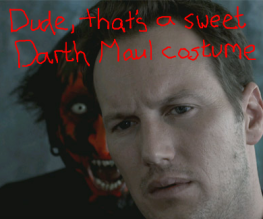 Insidious was a surprisingly lucrative smash hit back in the ancient times of 2011. Directed by James Wan, who also gave us Saw, Insidious was made on a budget of only $1.5 million yet earned $97 million in worldwide ticket sales. That's pretty ridiculous, but still didn't hit the profitability of Saw, which was made for $1.2 million and made $102 million. James Wan certainly has a talent of making bank out of pocket change.
Considering the financial success of Insidious, it is no surprise that James Wan has returned to scare millions yet again, with Insidious 2. Also returning to the Insidious set are Rose Byrne (she was in her underwear in X-Men: First Class) and Patrick Wilson (he sort of looks like Will Arnett). The original Insidious revolved around the couple's son, who enters a coma and then demons and that happen. It was actually surprisingly good. Hopefully they won't pull a Ghostbusters 2 and completely suck all life out of Insidious Chapter 2 (no, we did not make that up, that's the actual title).
James Wan has a couple of other projects bouncing around at the moment, one of which is his possible directorship of the MacGyver movie. Our recommendation is to stick to Insidious, James. Hopefully Insidious Chapter 2 won't herald the rise of a new yearly horror franchise, like the Saw series or (God forbid) Paranormal Activity.
We hope that the prospect of beautiful gold doesn't turn the makers of Insidious 2 into money-grubbing cynics. Remember who you are James Wan. You are my son, and the one true king. Remember… Remem… oh wait that's The Lion King again. Mufasa always dissolves the barrier between reality and fiction for us. It's our cross to bear.
Excited for Insidious Chapter 2? A deserving sequel or just another cynical cash-grab?
About The Author