J.J. Abrams' Super 8 monster revealed?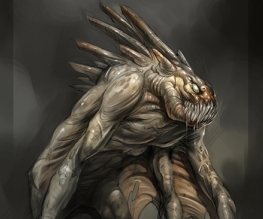 No-one knows much about the new J.J. Abram sci-fi film Super 8, and Abrams wants to keep it that way. It's low-ish budget (under $50 million) and described as the 'anti-Avatar' – J.J. Abrams has been heard pitching it as a loving nod to Spielberg movies of the seventies. Rumours abound that the Super 8 plot involves something big being transported by the military and breaking out of its container on a train.
Recently a picture of a huge drooling monster surfaced on the net. It seems to be a piece of Paramount Pictures concept art and is affixed with the intriguing words "Working title – Instamatic". The name Instamatic was linked with some Super 8 cameras (as well as being a brand of cheap camera produced by Kodak in the sixties).
Could this image reveal the Super 8 big bad? Time will tell – and here at Best For Film we're counting the seconds. Unfortunately, since Super 8 is scheduled for release in 10th June 2011, we're looking at at least 13,132,800 of them.
The Super 8 monster – concept art?
About The Author