Jack the Giant Killer renamed Jack the Giant Slayer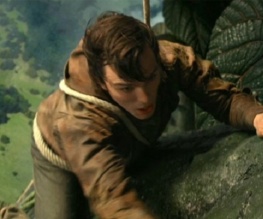 Jack The Giant Killer, the upcoming fantasy from director Bryan Singer, has had a late-in-the-day name change. Being a fantasy film that hopes to capture audiences of all ages, the word "killer" has been deemed too heavy to attract children and families. The film will now be known as Jack The Giant Slayer. Because obviously slaying and killing are obviously wildly different.
Jack The Giant Slayer will star former About A Boy and Skins actor Nicholas Hoult as the titular Jack, who unwittingly opens a doorway to another world, one into which our world's giants were banished long ago. Obviously, they rampage their way back through to ours, and try to reclaim their old stomping grounds, and it's up to Jack to right his wrong and send them packing once more.
What with the fairytale theme, and co-stars Ian McShane, Stanley Tucci and Ewan McGregor, Jack the Giant Slayer already has a distinctly British feel to it. While Jack the Giant Slayer is a perfectly passable alternative title, we're not quite sure how it implies anything warmer and cuddlier than Jack The Giant Killer. Unless Hoult is going to be sending them back to their own realm by slaying them with laughter, we don't really see the point.
And it's not just the name that's changed. Jack The Giant Slayer has also had its release date moved forward, opening in the US on March 1st 2013, with a same-day release in the UK looking likely.
About The Author