Jason Statham & Tom Hardy for Escape From New York remake?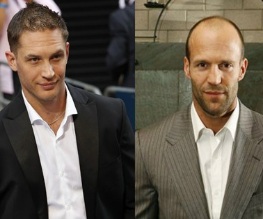 British hardmen Jason Statham and Tom Hardy are being scouted to play the role of Snake Plissken in the remake of Escape From New York. While this is currently only speculation, we reckon that either man would be suited to the part; BUT if you want a tough guy who can actually act, then hopefully they plump for Tom Hardy. Plissken was played by Kurt Russell in the original, so whoever is offered the role will have some pretty big shoes to fill.
One of those Hollywood insider types said of the pair: "Jason is the type of actor who has the physical attributes and screen presence to reprise Snake. He has a proven track record as a leading man and would do a great job. Tom was immense in The Dark Knight Rises and deserves to get a break in a top role. This could put him firmly on the A list". There is no word yet on who will be directing or who is going to be on script duty. What is known however, is that Escape From New York is being planned as a trilogy. So that'll be either three films with Jason Statham as the lead, or three films with Hardy as the lead. We know which we'd rather see. Either way, both Statham and Hardy are going to have to put in some serious work on the hair front if they want to emulate Russell.
About The Author