John Green's The Fault in Our Stars adaptation bags director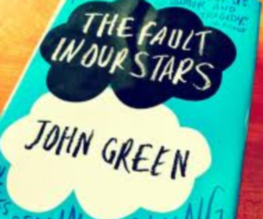 Bestselling author, vlogger and "nerdfighter" John Green is to have his award-winning YA novel The Fault in Our Stars adapted into a film, with Josh Boone on board as director. The writer took to Twitter last week to celebrate the news, commenting that "THIS HAS BEEN A VERY EXCITING COUPLE OF DAYS". That it is, John. But for dedicated fans of the book the news will come as a mixed bag of good and bad. The Fault in Our Stars is a genuinely heartfelt, witty and moving YA novel, likely to make a fantastic film. But it's been reported that Twilight saga producers Wyck Godfrey and Marty Bowen are attached to the project. PLEASE DON'T TARNISH MORE THINGS, GUYS.
The Fault in Our Stars tells the story of 16-year-old cancer sufferer Hazel, who meets and falls in love with amputee Augustus Waters at a support group. It's all very sweet and charming and Hazel's narration is incredibly down to earth and honest, none of the sentimental smut that could come with Books About Cancer. John Green's previous novel, Looking For Alaska, was a New York times bestseller and Green's popularity soon spread globally, along with his vlogging YouTube videos with his brother.
Writers Scott Neustadter and Michael H Weber are currently working on the script, which sounds promising. Both have previously collaborated on 500 Days of Summer, so perhaps there's a silver lining after all. Shailene Woodley is currently in talks to play narrator Hazel. Having appeared alongside George Clooney in The Descendants, Woodley is apparently one of the 'up and coming' Hollywood actresses, so watch this space.
Josh Boone said of the project; "I feel the weight and responsibility to get this right and give his readers and devoted fans as pure a translation as possible… We hope to create a little infinity within this film that fans can revisit over and over."
Boone's one and only other film, Stuck in Love – which he wrote and directed – was acquired at last year's Toronto International Film Festival by Millennium Entertainment and is due for release later this year. We have no idea what to expect with this new director, but only time will tell if he does John Green's The Fault in Our Stars any justice.
Have you read The Fault in Our Stars? Do you think a film adaptation is a good move? Let us know!
About The Author