Johnny Depp to star in a load more films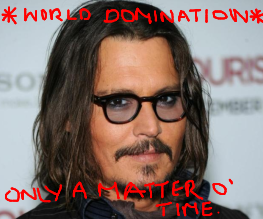 Hardly a day goes by where someone, somewhere, isn't planning Johnny Depp's imminent world takeover via movie domination. We've already revealed that Depp is set to star in Transcendence, playing a sci-fi supercomputer human whose brain has been downloaded onto a computer, or something, which is legendary cinematographer Wally Pfister's directorial debut. But Depp's part in Transcendence was on rocky grounds when it was announced that he was also set to star in Barry Levinson's crime thriller Black Mass. It was all too much for us to get our heads around. Anyway, we can now confirm that he'll be starring in BOTH films, and probably has a great many more films stored somewhere up those deliciously tattooed arms of his.
So. Here's what's crack-a-lackin. Filming for Black Mass will begin this summer, which will see Depp leaving behind those ridiculous costumes and eyeliner and taking on the role of Whitey Bulger; notorious Boston mob boss. Back to his Donnie Brasco roots. GET IN. The screenplay has been written by Mark Mallouk, based on the best-selling and pretty mouthful-y Black Mass: The True Story of an Unholy Alliance Between the FBI and the Irish Mob. Essentially, the entire story there for you.
Before that however, Johnny Depp will be filming Transcendence. Click here for the plot, but be warned; it's totally wack. Also, Christopher Nolan will be executive producer for the film. Woah! According to Johnny's reps, "producers are not revealing the film's plot." But we've got some of it anyway. Because we're awesome like that.
Until then, we've still got the beauty that'll hopefully be Gore Verbinski's The Lone Ranger, where we see Johnny Depp returning to his most favourable character – Jack Sparrow lost in the desert with a bird on his head. Be sure to check out The Lone Ranger's first racist trailer, and await its UK release in August! Yeehaw!
What will Johnny Depp do next? WHO KNOWS EH? Do YOU?
About The Author